utcc x pre-IAFT19/20
tactileBOSCH and IAFT present an exhibition of audio visual, sound works, performance art, Installation, photography and prints exploring night culture as social practice and as a meeting place where inhibitions and expectations are deconstructed, revealing a platform for free expression, experimentation, participation and play.
tactileBOSCHとIAFTは、ナイト・カルチャーを社会的行為の実践、出会いの場として捉え、オーディオ・ヴィジュアル、サウンド・アート、パフォーマンス・アート、インスタレーション、写真や平面作品の展示を行います。
そこでは、人々の抑圧と期待が脱構築され、自由な表現や実験に参加して、楽しむためのプラットフォームが築かれます。
貴重な1DAYイベントですので、ぜひお誘いあわせの上お越しください!
■
underthecounterculture
pre-Interdisciplinary Art Festival Tokyo 19/20
18 May 2019 2019年5月18日
Open 4pm
Close 10pm
ーExhibition 4pm – 10pm
ーPerformance 7pm – 10pm
¥1,000 with 1drink
Chateau Koganei Basement シャトー小金井ベースメント
東京都小金井市本町6丁目5-3 B1
B1, Honcho 6-5-3, Koganei-city, Tokyo
JR武蔵小金井駅より徒歩6分

■
Exhibition 4pm – 10pm
tactileBOSCH selected
Sound Art
Teddy Hunter

Photography
Megan Winstone

Rebbecca Hammet TEMMAH

Illustration
Video Art
Megan Broadmeadow

Ethan Dodd
IAFT selected
Video Art
Eveadam
学校の美術室のような場所で男女が全裸で佇む。作者と被写体との関係性を、「撮る/撮られる」で表現し、同時に、神と人間についても言及している。
In the work Eveadam, a man and a woman stand nude, their surroundings indicative of a school art room. The work questions the relationship between the author and the subject, the people being shot and the person shooting. For some, Eveadam may also make mention of the relationship between human and 'God'.
timeless video -areas-
東北の被災地(石巻、女川、気仙沼)で、およそ30分間でカメラが1回転して撮影された風景。その映像は36秒間へ時間的に圧縮され、さらに1ピクセル、1フレームごとに時間的・空間的に刻まれる。そこでは、30分間の時間の断片だけではなく、風景全体が1フレームの画像で同時に見ることができる。
The landscapes of Ishinomaki, Onagawa and Kesennuma in Tohoku areas were shot by a video camera which rotated by 360 degrees for about 30 minutes. The images are compressed to 36 seconds in time and cut by one pixel and every frame in time and space. You can watch fragments not only of time of 30 minutes but also of the 360 degrees landscapes in a frame at the same time.
Caesura
caesuraとは詩の韻律における中間休止や区切れの事である。とある悲劇論においては、カタストロフィー(破局)とカタルシス(浄化)の転換点には中間休止があり、それによって物語が大きく変転するという。人類と芸術の近現代史を悲劇の構造に置き換え、幾つかの男性と女性の映像をもとに今日(現代)を中間休止として機能させようと制作した作品。
Caesura is a break or a pause in a metric line. One theory of the tragedy says that a caesura exists at the turning point in between catastrophe and catharsis, and induces a big shift in the storyline. This is a work that applies the structure of the tragedy to the modern-contemporary history of men and art in attempt to make today function as a caesura by using some videos of men and women.
■
Performance 7pm – 10pm
IAFT selected
si/ma
わたしたちの足下には、草木や動物、昆虫といった類から、分解を司るもの、目には見えないものまでの、痕跡がある。あるいはそれを"すでに書かれたもの"として、読みとり、唱え、歌にし、舞うこともできる。存在の残り香、情念の木霊。虚空に響くその声の形が、かつての、遊ぶものたちの往生の為の場を浮かび上がらせる。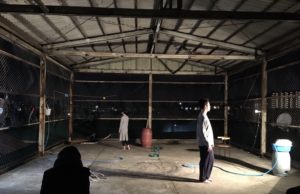 tactileBOSCH selected
Beth Greenhalgh

■
About Interdisciplinary Art Festival Tokyo
http://i-a-f-t.net
In 2009 IAFT was founded, as a reincarnation of "Far East Audio Visual Socialization (FEAVS)", to shatter the current norm of fixed spaces and audiences; and to discover artists who create new values going beyond the borders of artistic practice. We feature artists who engage in interdisciplinary practice, creating new values that connect people by introducing more dynamic art festivals that reflects contemporary society. Our purpose is to provide new and free perspectives that enrich people with inspiration – expanding the opportunity for the artists to present their works, by introducing experimental and avant-garde art. We aim for both creators and viewers to mutually share their feed back with each other: build the foundation for new art, and rejuvenate the art scene by featuring innovative artists with clear concepts and new visions.
■
utcc x pre-IAFT19/20 is co-presented by
tactileBOSCH
Interdisciplinary Art Festival Tokyo
主催:
タクタイルボッシュ
インターディシプリナリー・アート・フェスティバル・トウキョウ
Supported by