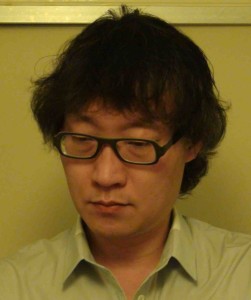 Hyun-Suk Seo ソ・ヒョンソク
1965年生まれ。延世大学コミュニケーション大学院教授。
クリエーターとしてもサイトスペシフィック・パフォーマンス作品を制作し、フェスティバル・ボムやナム・ジュン・パイク・アートセンター等で発表している。
2013年に急な坂スタジオで日韓共同プロジェクト「つれなくも秋の風」を上演。2012年にはフェスティバルトーキョー公募プログラム審査員を務めた。
2014年11月3日~7日にフェスティバルトーキョー14にて新作「From the Sea」を発表。
Hyun-Suk Seo is an artist and theorist working on cinema, video art, performance, and interdisciplinary arts.
His performance projects often aim to invite audience members to reinvent their own memories as well as senses.
Heterotopia(Seoul, 2010/11), Desire Paths(Yongin, 2011), The Divine Prostitution of the Soul(Seoul, 2011), Heterochrony(Seoul, 2012), and Resolutely Autumn Wind(Yokohama, 2013) utilize simple everyday devices, such as goggles, earplugs, or audio recorders, to re-sculpt the audience experiences and to interrogate the limits and conditions of "theatrical engagement."
They take place on sites loaded with architectural traces of modernity, which is another ongoing subject of interest in his creative and textual works. His video and performance works have been shown at Festival Bom, Gwangju Design Biennale, Venice
Architecture Biennale, Clermont-Ferrand Film Festival, and Canal+, among others.
He is the author of the books, Monster/Father/Freud(2011) and The Art of the Future(upcoming), and is the co-editor of Ob.scene, a magazine on interdisciplinary creative practices.
From the Seaより